The comb is that little thing on the top of your bird... check out the different types of combs and see what type your chickens have. So why does your chicken have this comb anyway?... To help show how healthy they are also to determine breed to learn more Click here
A good chicken dinner ... or a tough one?
With so many joining in on homesteading ... you may be raising a flock to eat and finding out they are as tough as a rubber band! Here are some tips...
Eat them young and if you have a "OLD BIRD" pressure cook him or cook in the crockpot and then shred him up good and make that old rooster into chicken and dumplings
Useful Chicken breed info
Love to chat chickens? Chat with me on twitter @R47R
Sometimes you gotta be a little trashy
When I was in school our teachers used to ask us to bring in old magazines etc.. for projects etc.. Backyard Farming helps you to rethink a lot of your choices as so many things get put back into the farm - example crushing up the egg shells to feed back to the chickens for calcium, animal manure for the garden etc... I love to do artsy things but I like them to be "USEFUL" . A great hobby for all is to learn to be more "FRUGAL" about our trash..obviously you want things to look nice but just like a bouquet of flowers sometimes you may have things up for a month or so then you can give them a way to a friend or donate. What I like do to is to get a few boxes and put say old magazines in one, old tissue paper from say a gift in another, etc.. old milk jugs, etc... separating them all then when I am ready to do my craft time I have a lot of what I have been saving. This is really nice if you have kids as you can use all your "RECYCLED TRASH" to give them a nice craft time - a easy toy and little hands like to be busy.-- or if you want to make a more sophisticated item you can have them ready for a project. If I find things are just piling up I just toss them to the recycle bin... but most of the time it is amazing the uses I found - old wallpaper makes a great book cover for a book that the cover is shot. Old socks ..my paper towels! etc... With Spring coming on this is a great time to go through stuff and toss what is going to just take up space but think some of your tossing habits as the money you save say...using grocery bags for trash bags could be garden supplies...seeds, etc...
*******************************
I like to know the recipes for as many things as I can just in case I am cooking and oops... I forgot to pick that up... or maybe I just want my homemade kind or it's cheaper... Here is the Recipe for PANCAKE syrup
3 cups granulated sugar
1 1/2 cups water
3 Tbsp molasses
1 tsp vanilla
2 tsp butter flavoring
1 tsp maple extract
Bring all to a boil stirring until your sugar is all dissolved... a good rolling boil.. turn off heat and leave it on the burner until the bubbling stops.
######################################
FREEBIES - And how to get them!
I have been getting freebies for many years. One thing I know is that it is well worth my time. There are "FREEBIES" all around you, you just have to learn how to look for them. I really want all of you that follow me on the internet and in real life to do well so I want to encourage you to embrace learning how to get "Freebies" for your family. Here are some things you can do to get started.
google Free stuff and a zillion sites will come up.. I list free stuff on my blog everyday ... click on my freebie site tab above daily to check for them. The key is to be faithful to it. It's not the smartest but the "FAITHFUL" ..who get the "MOSTEST" ... even if you just go to my site everyday and that is it, at least you went for it.
- Next learn to be a giver... when you start giving away YOUR STUFF you don't want or need.. you will find people who have are out there doing the same thing. I really hate going anywhere without a "BAG" I have been known to give the pizza man a bag of goodies...or a store clerk, etc.. (all new stuff of course!) ... Actually, this is the Bible way the Liberal soul shall be made fat... but not everyone is going to be giving a bag to the pizza man... but start with your friends and relatives...DO NOT EXPECT anything in return... what usually happens is people realize hey she's humble enough to give me her old jeans ...and tell people yeah I am willing to look through a bag of clothes for some fresh shirts, books, movies, old toys, curtains, etc..
FREE Plants- save your seeds!
FREE Food--- couponing is awesome and samples and free sites!
FREE BABYSITTER? ... If you need some MOM time.. go to church... NURSERY WORKERS are great and it gives you a great time to sit with your husband alone and be a couple! Find a church with a good nursery program and your kids will "FORCE" you to go to church as they usually have so much fun in kid's classes as they grow up too!
And don't forget VACATION BIBLE SCHOOL where many churches have great stuff for the kids for a whole week in the summer and that will give you a whole week of MOM TIME!
SWEEPSTAKING- I really got into sweepstaking big time last year ... learned all about it and WOW..what a life changer.. 1st year.. won 1,000 check, 3,000 painting, approx 5-20 wins a month... I list them on my site here daily and there are a zillion sites if you google... The secret to sweepstaking ... do it everyday and eventually the wins come in... Hey, I just won a T Shirt yesterday... FREE stuff and sweepstaking is a lot of FUN!
Follow me on twitter @R47R if you want to enter a sweepstake right after me.
***************************************
PR/PUBLICITY...
Whew.... I wanted to touch base here on PR since I have gotten a lot of emails lately with quite a few people wanting to chat with me about "how to do it" how do you do it Ruthie? I have been in PR so long I think I was born with a microphone in my bottle.. I actually had a newsletter for years teaching people for FREE as I just really wanted to help people and just got so busy working my day job...once they find out you are a seller many times they hate to have you home so lots of hours.. anyway.. I want to help all of my friends and followers out there in business who read my blog as this blog is about how a city and country couple are building a life together and our goal is to teach you life skills... so here goes I will be tossing out some articles here for you all to "munch on"... good for moms too for yard sales, club events..school and church events.. etc..
FREE PR... Every newspaper does PUBLIC SERVICE ANNOUNCEMENTS... they shouldn't be MONEY related... as you won't be able to advertise your business to sell.. but if say your business is having a give a way or a special guest, etc... You write your OWN PR release and MAIL or email it to them.. Example To Newspaper from Ruthie Pople RE: please put the following in your paper this week. PUBLICITY RELEASE Pople Backyard Farm to give away Easter toys on feb 10th at... blah blah.. Cable and TV stations do these too.. community events etc...
There is much more I can share but this should get you started and keep reading my blog for more tips.. I love helping people and I just figured it would be a good life skill for all as I have found this knowlege great for church work and other activities I am involved in as well.
Join us in our Daily Bible study
Click here
DRAW A Chicken
Freebies/Sweepstakes
Weekend Get a way or cash option
click here
Win a vacation
http://
Win a vacation
Great Clips haircuts
TEXT to win HAIRCUT to 47328
FREE wildflower reference site
http://shop.wildseedfarms.com/inforequest.asp
Get a way to Boston
TEXT to win SAM30 to 30364
Slumberdown's Big Pillow Giveaway! http://woobox.com/5o2vhb/6sxbo8
(For more Freebies/Sweepstakes please click on the tab above)
Want a safe soap for your family that works great? Click here
If you are in the market for redoing your garbage floor here is a great product that is really unique Click here to learn more
If you would like to have beautiful healthy Spring looking hair pick up some of Zotos Age Beautiful products Click here for my review
A story of our heartland the land love and heartbreak and finally contentment. Check out my review of The Ogallala Road by Julene Bair
Click here to read my review
Cybergeddon comes out March 18th on DVD. FBI agent Chloe Jackson is framed for a cybercrime and now she's out for justice. In a world where everyone is connected .... Click here to read my review
Grab your superhero cape and facemask.. it's time for yet another Super hero DVD "SPARKS" . Clancy Brown, Clint Howard etc.. Click here for my review
Olive Nation 's Vanilla Extract is a great yummy treat Click here
Water Walker Leash ... This leash has it ALL for your pampered pooch Click here to learn more
Yard Butler Rakes work are made really well and if you are looking for some good quality yard tools you may want to pick up a few of these!
My Monk craze continues as I read Mr. Monk gets on Board by Hy Conrad ...you won't be disappointed I just love these books... Click here for my review
When I was in sales I used to hate it when I couldn't communicate with my spanish sales reps in my team. I would try but I just wasn't fluent. A language isn't that hard to learn.. we are constantly learning new slang in English and new buzz words so why not just take a few years and learn a second language that can be useful in our society. As I blogged about before I am learning Spanish :) The Complete Idiot's Guide to Learning Spanish is a great resource click here to read my review
John Schlimm's The Cheesy Vegan will have your family asking for more and more veggies! Click here for my review
Need some great tools that you can use to help your family click here
Tower of Babel.. and more join us in Today's Bible study
Click here
I love cute things and I fell in love with the Baker 13 products they are so happy and fun click here
Love, Rumors, fortunes you will adore Anita Higman's HOME AT LAST click here for review
Want to grow your hair long and Fast? This is a amazing product that is helping me grow out my hair Click here to read more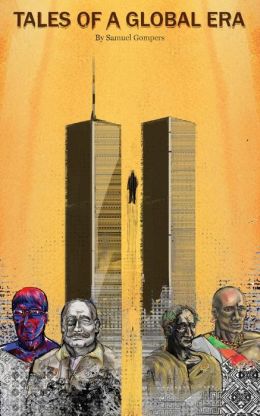 Tales of a Global Era by Samuel Gompers. A fictional tale about technology Click here for review